Thank you for performing
Thank you to everyone for keeping our energy flowing. Our core oil and gas business is performing really well, with plant reliability (95.3%) and refining availability (94.4%) both up this year. 

And we've continued to make our hydrocarbons portfolio more resilient. We made a gas discovery in Indonesia, and made an oil discovery offshore Brazil. And we reshaped our portfolio in Canada – agreeing to acquire new acreage offshore in eastern Canada and to sell our Canadian oil sands project. It was also day one yesterday for Azule Energy, the new business that combines our Angola operations with Eni's. They will be even more brilliant together – good luck, team!

Thank you for transforming
Thank you everyone who has been part of the progress we're making on our strategy. I will just highlight two areas but there are many, many more. 

Our EV charging business is growing at pace – we're already industry-leading in the UK. We've just become number one for fast charging in Germany, and now we're planning to install up to 11,000 rapid and ultra-fast charge points across Spain and Portugal. This is part one of the strategic agreement we're planning with Iberdrola, which we announced last week.

And we are fast creating a global leadership position in low carbon hydrogen. The second part of the collaboration we're planning with Iberdrola is to partner on developing green hydrogen at scale in Spain, Portugal and the UK.

And that comes hot on the heels of us taking the lead in Australia to build one of the world's largest renewable energy hubs – so big it could potentially light up a third of that country.

'Who we are'
One last thanks for now. Thank you for giving our new 'Who we are' frame such a warm welcome. I love it and I hope you do too. It's going to help us shift up a gear, so we can keep improving, and keep delivering for the people who depend upon us – our customers, communities, partners, and shareholders.
And finally, we talk a lot in bp about performing while transforming. That is exactly what you are doing. Our company is running well and continues to strengthen.
We have real strategic momentum in our transformation to an IEC. Our financial frame has clarity and discipline – it's unchanged and doing what it's intended to do. And we are growing distributions – remaining acutely focused on delivering long-term value for our owners. We can be more confident than ever that bp has the capabilities and scale to help the world address the energy trilemma.

You are doing awesome work –  thank you!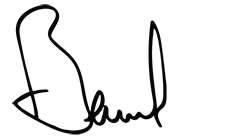 Bernard